Kids, Teen, and Adult Martial Arts Programs
---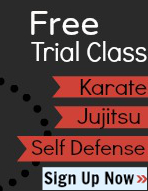 Cormier's Self Defense Academy specializes in karate, jujitsu, and adult self defense training that nurtures strong character and self-confidence.
We were awarded Best Martial Arts Studio in baystateparent Magazine's 2016 Best of baystateparent Awards.  Our martial arts classes were voted the Top 5 Martial Arts Classes in Massachusetts in Boston Parents Paper's 2017 and 2015 Family Favorite Awards, and Best Martial Arts Classes around Boston in the Boston Parents Paper 2014 Family Favorite Awards.
We feature black belt programs for kids and adults in Okinawan Goju ryu Karate and Hakko Denshin Ryu Jujutsu, private or group classes in effective self defense fundamentals, and Hatha Yoga classes.
All classes are led by certified professional instructors with decades of experience.  We work closely with our students, providing instruction based on the needs and capabilities of each individual learner.  Students engaged in our martial arts programs enjoy the benefits of increasing physical fitness, reducing stress and tension, and developing self-discipline and self-confidence that can profoundly impact all aspects of their life. The self-discipline and extended mental focus learned in training, for instance, carries over to the workplace, helping you accomplish goals.

What Our Families Are Saying
Caleb has been raving about his first time sparring with his friends in the teen/adult karate class. He is on cloud nine. Thank you for your continued investment in our teenager, giving him a safe, fun, growing environment. We appreciate all you do.
You've had a profound effect on both of our children. I honestly believe karate improved their self-discipline and self-confidence. Thanks for all you've done!
Cormier's Self Defense Academy's Martial Arts Classes Include:
Adults & Kids Karate
Whether a beginner or experienced, an adult, teen, or child, our karate students learn the true spirit of karate in a comfortable, safe, supportive, and very friendly environment. We use positive reinforcement and mutual respect to motivate students to achieve higher levels of skill in this martial art.
Adults & Kids Jujitsu
Our jujitsu instructors guide students towards their individual goals in a non-competitive environment. By training with our team, students realize the benefits of increased strength, flexibility, and endurance.
Teen & Adults Self Defense
By training with us, men and women empower themselves with knowledge of personal safety awareness and learn valuable self defense techniques and strategies among a supportive community of fellow students. 
Learn more about our martial arts programs and contact us to arrange your introductory martial arts lesson.