Kids, Teen, and Adult Jujitsu Classes
---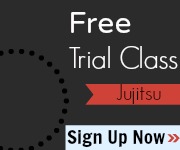 We instruct children and adults from ages 8 and up in the internationally recognized martial art of Hakko Denshin Ryu Jujutsu. In this excellent system of self defense, the student learns that he/she needs not be powerful to control or disable an assailant.
Although some of the strikes and kicks included in karate are taught, the main focus is learning how to control someone by utilizing joint lock and takedown techniques, which require more skill than power.
Our jujitsu students progress at their own pace in a non-competitive environment. With regular training, jujitsu can help improve coordination, fitness, flexibility, and self-confidence.
What Our Students & Families Are Saying
I became a black belt in jujitsu this past year. Now that I have this training, I feel so much more confident among strangers because part of my training was in self defense. I would recommend Cormier's to anyone. Jim takes all the precautions necessary to make the learning safe and there's some fun mixed in there to.
I just want you to know how jujitsu is so great for our son. He can step away from his stress and a bad day into a comfortable place and refocus and come out better for it.
I just had to tell you how great you are with the kids and how lucky my daughter (and all the other students are) is to have a teacher like you!
Potential students are always welcome to come in and join us for a complimentary trial class in jujitsu or in any of these wonderful martial arts: karate and teen/adult self defense.