Teen & Adult Self Defense Classes
---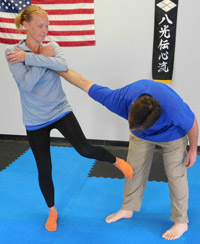 Develop the self-confidence and skills to know that you will get home safely.  Our self defense programs provide you with real, practical skills that help you to de-escalate aggressive situations and physically defend yourself against an attack.
We teach you effective self defense fundamentals, grabbing control techniques, striking, kicking, and escape techniques, and how to fall properly-all of which can be a nice mix to meet anyone's self defense needs.  Skills obtained could be derived from karate or jujitsu; tell us what you would like and we will do our best to accommodate your needs and schedule.   Our classes deal directly with self defense; they are not exercise classes.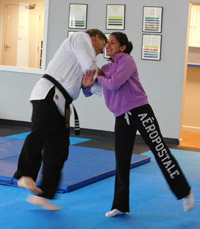 Although investing time in the regular practice of one of our black belt martial arts programs and-reaping the many benefits reaped from such an endeavor-is something many people would like to do, not everyone is in a position to do so.  We understand this and are here to help those who would still like to acquire practical self defense skills but do so when their schedule allows.
We offer private and group self defense classes that can be tailored to your specific needs.  Enrollment in our school is not necessary to take advantage of our adult and teen self defense programs.  Class rates are based on the type of self defense program provided, and you can arrange self defense classes in the following ways:
Men or women can schedule a one-on-one, 30-minute private class.
Men or women can schedule classes for two or more people for 30-minute or one hour sessions.
Classes can be scheduled for young ladies ages 14 to 18.
Groups, such as Girl Scouts, Boy Scouts, and women's groups, can schedule a one-time or multiple session program.
Students and staff at schools and colleges can arrange a training program to suit their needs.
Businesses of any size can schedule corporate workshops, courses, and seminars.
What Our Students Are Saying
I've been training here for ten years and couldn't imagine training anywhere else or with anyone else. Karate has given me a lot of self-confidence and self-control. I feel a lot safer walking around my college campus or around cities at night knowing that I can handle myself in most situations. Unfortunately, I've had to use my karate on multiple occasions (for myself and my friends), mostly with large males who don't like to take "no" for an answer. I can say with absolute confidence that these situations would have ended differently had I not known how to handle myself in a calm fashion. Cormier's is definitely one of the best places to learn martial arts and other life-long skills.
Thank you for all your effort during the self defense course and all that you taught me; it was so much fun!
Our self defense classes for women and men are always taught by a highly qualified instructor in a safe and friendly environment.
Let us help you reach your self defense goals!  Potential students are always welcome to come in and join us for a complimentary trial class in self defense.