Martial Arts Frequently Asked Questions
---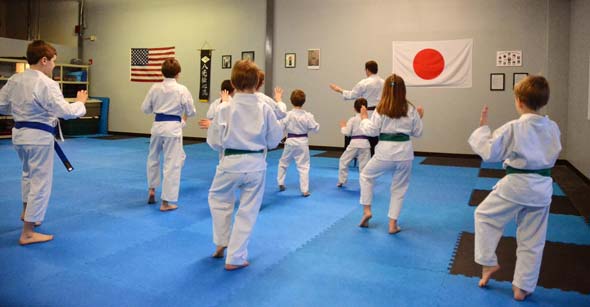 1. I'm considering martial arts training for my child or for myself.  What should I do first?
Try to decide why you are looking to study martial arts (Self defense?  Health and fitness?)  and what benefits you want you or your child to reap from martial arts training.  Think about your goals and what you hope to accomplish by studying a martial art.  Take a moment to learn more about the martial art you are interested in learning.
2.  What martial arts programs does Cormier's Self Defense Academy offer?
Cormier's Self Defense Academy specializes in karate, jujitsu, and self defense training:
Kids-Adult Karate Classes (both private and group classes)
Kids-Adult Jujitsu Classes  (group classes)
Teen-Adult Self Defense Classes (both private and group classes)
3.  How old do I have to be to participate in your karate and jujitsu programs?
Kids Karate:  Children ages 4 and up may join our kids karate classes.
Teen/Adult Karate: Anyone about 14 and older is welcome to join this program.
Kids Jujitsu: Students from 8 to 13-years old may join our kids jujitsu classes.
Teen/Adult Jujitsu: Anyone over 14-years old may join this program.
4.  Do I need to have martial arts experience to join your school?
No.  We welcome beginners into all of our martial arts programs.
5.  May my child participate in martial arts even though he/she is not athletic?
Absolutely!  We work closely with our students, providing instruction based on the needs and capabilities of each individual learner.  Depending upon which program you choose, just be aware that the curriculum may include activities such as stretching, calisthenics, jumping, striking, kicking, falling on mats, throwing and being thrown on mats, and learning how to escape from grabbing attacks and how to control the opponent.  But rest assured, at Cormier's, your child will learn martial arts in a comfortable, safe, supportive, and very friendly environment.
6. What is covered in your kids karate classes?
Our kids karate classes blend exercise and fun as young students learn the fundamental principles and true spirit of Okinawan Goju ryu Karate-do in a safe, respectful, family-friendly atmosphere.  Teachings of important life skills, such as strangers and recognizing the warning signs of suspicious behavior and anti-bullying, are seamlessly woven into the curriculum.
7.  Do you offer customized group self defense programs?
We can arrange for special self-defense classes for any organizations in the comfort of our dojo.
8.  When are your martial arts classes held?
Our classes are held Monday-Thursday.  Please see our martial arts class schedule to see when the martial arts program you're interested in occurs.
With regards to school closings, we are closed on any days in which the Holliston Public Schools are closed due to inclement weather and state or national holidays.  If a storm is scheduled to arrive in the afternoon or evening, we will make a determination as to class cancellation and notify our students by email as early as possible.
9. Is it worth it to enroll in a martial arts program if our schedule only allows for participation once a week?
Yes; any training is better than no training at all. Most full-time schools, including ours, offer private classes, which can help with scheduling difficulties.  Attending a private class once a week can be more beneficial than training once a week in a group session.  One thing to keep in mind is that belt promotions will happen less frequently for you than for students who attend class more than once a week.
10. How often are belt exams given at your school?
Everyone learns and progresses at his/her own pace. When a student has shown that he/she has mastered the material for the next level, a belt examination will be scheduled.
11. How long does it take to become a junior or senior black belt in your school?
There are many factors which determine the timetable for such an achievement. Mastery of material, attendance, ability to instruct, attitude, and other requirements must be met. Generally, if all requirements are met, it takes between 3 to 6 years for a dedicated student to earn his/her junior or senior black belt.  Junior black belts must re-examined for senior black belt after they turn sixteen.
12.  May I visit your school before trying a class? 
Yes, please! It's important to see what looks and feels right for you and your child.  Please contact us to arrange a mutually convenient time to observe a group class of the martial art you're interested in and to meet Jim Cormier.  We're very happy to meet with you and answer any questions you may have.
13.  May I try a class before joining?
Of course!  You are welcome to participate in an introductory martial arts class at no cost and with no obligation.
14. Okay, I'm an adult student and would like to enroll in one of Cormier's Self Defense Academy's martial arts programs.   How do I get started?
Excellent!  Please make an appointment for a convenient starting day. You'll be asked to come in on a group class day to meet with a head instructor, who  will take you individually through a few basic movements while the group class is in session.  You will be given a uniform, an enrollment form, and you can start right in with regular classes. For the first few classes, you will be working alone with an instructor and, when you're ready, you'll do some limited participation with the group until you have acquired enough knowledge to fully participate.   You will be invoiced for any fees at the first of every month.
15. Okay, I've chosen Cormier's Self Defense Academy for my child. How do we get started?
Karate:
After your child participates in the free trial class, we will speak with the parent the following day or so to see if the child would like to continue. At that time, we will also discuss any concerns we may or may not have concerning the child. If everyone agrees to continue, the child will attend the New Kids Class until he/she has mastered enough material and room is available to move into the beginner's karate group. At that time, your child will receive a uniform and a white belt.
Jujitsu:
After participating in the introductory class, we will speak with the parent the following day or so to see if your child would like to continue with jujitsu training.  If everyone agrees to continue, your child will attend jujitsu classes with the rest of the jujitsu students.  At this time, your child will receive a uniform and a white belt.
17. What are your rates?
We will discuss our very reasonable month-to-month program rates when we meet.