Hatha Yoga by The Yoga Garden
---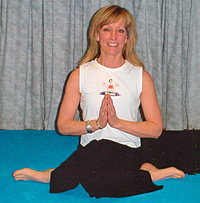 Since July 1999, Cormier's Self Defense Academy has had the pleasure of offering yoga classes. The Yoga Garden, founded by certified instructor Nancy Galiardi, offers yoga classes in ongoing six or eight week sessions.  A yoga practitioner for over 37 years, Nancy has studied yoga and yoga philosophy at Interface and at the Iyengar Center in Somerville.
Certified by Frog Pond Yoga Centre, Nancy teaches Hatha Yoga, which is a comprehensive system of gentle, stress-free postures, stretches, balancing positions, breathing, relaxation, and meditation practices.   Nancy focuses on bringing balance to one's practice by integrating both an active flow and a slower Yin flow…a combination of core/muscular stability and stimulation of prana.  Her instruction is strongly influenced by all the great teachers who have crossed her path over the years.  Nancy has enjoyed teaching yoga to children since 1992 and adults since the spring of 1999.
What is Yoga?
The name yoga comes from an ancient Sanskrit word that means "union or one". Yoga is a science that was developed many hundreds of years ago in India to help unite man's body, mind and spirit. Its goals are physical health, mental alertness, and spiritual peace.  Yoga postures are exercises that promote control of muscles and balance. It's an excellent way to loosen your body and become more relaxed. Yoga exercises take little time to do; most postures take only a minute or less.
What is Meditation?
The word meditation comes from the Sanskrit word "medha", which means "doing the wisdom". Meditation is a special way of finding the quiet place inside yourself and helps you to be calm and peaceful. Through meditation, you learn to control your thoughts. By applying simple techniques, you will be able to focus your thoughts in one place, making your thoughts become more orderly and creative.
Yoga Garden Schedule:
Due to the pandemic, our yoga classes have been suspended till further notice.